Inca Lanes offers family entertainment, league bowling, birthday parties, group functions and much more. We have a whole new look and feel with lower prices.
At Inca Lanes, you can have a great time at prices that won't break your family's budget.We are your place for a wholesome, active outing for all ages. For great
times with friends and family, no sport is more fun than bowling and no place
offers good times quite like Yuma's most established bowling center, Inca Lanes!
Inca Lanes has been proudly serving the Yuma bowling community for nearly 26
years. Our 40 lane state of the art center has become a Yuma landmark. Inca
Lanes offers fully automated scoring, bumper bowling for children on every lane,
a brand new snack bar, and a full service cocktail lounge for your enjoyment. As
a family run business we are proud to offer a family-oriented bowling center, and
we specialize in hosting birthday parties for kids of all ages. Come on in and check
out our new services and staff and take advantage of our inexpensive specials.
Visit our Pro Shop, or have a bite to eat at our snack bar and don't forget to have
a beverage in the Lounge. Inca Lanes is your destination for family FUN in Yuma, AZ.

Inca Lanes - 1250 W. 16th St. Yuma AZ 85364 (928) 782-4622
Inca Lanes Hours
Mon 10:00 am - Close
Tue  10:00 am - Close
Wed 10:00 am - Close
Thu  10:00 am - Close

Fri   10:00 am - Close
Sat    9:00 am - Close
Sun 11:00 am - Close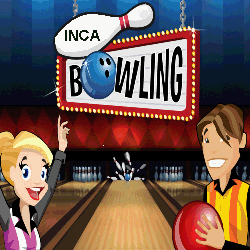 Map To Inca Lanes